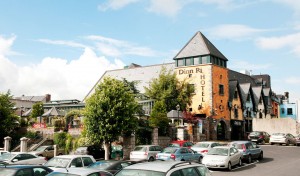 Dinn Rí Carlow
Located in the heart of Carlow town, Dinn Rí Hotel and Entertainment Venues all sit together under one roof offering accommodation, dining, entertainment and fantastic nightlife. Drop by and visit us next time you are in Carlow.

---
Dinn Rí Bar, Carlow
The award winning Dinn Rí bar, located in the very heart of Carlow's town centre, offers delicious bar food, carvery lunches and quality beverages. One of Carlow's finest super-pubs, Dinn Rí Bar is also a free Wifi zone, has live entertainment each weekend and is an ideal place to watch sports with multiple large screens and surround sound.
The Terrace, Carlow
Carlow's newest venue, The Terrace, offers patrons the best of both worlds – Enjoy a beverage and banter under the skyline at a comfy 20 degrees! Located in the heart of Carlow town, this is a very unique and special setting suitable for everything from casual drinks to group celebrations. It's open 7 days and 7 nights each week and is a late bar on Fridays and Saturdays.
Brooks Café Bistro, Carlow
Brooks is a trendy café bistro which serves great coffees, beverages and gourmet snacks. Don't settle for anything less than breakfast or brunch at Brooks and remember to book early for the evening brasserie dining experience in Carlow's most stylish café bistro.
Dinn Rí Hotel, Carlow
The 3 star Dinn Rí Hotel, located in the very centre of Carlow town, offers newly refurbished boutique bedrooms, each with an en suite bathroom. Dinn Rí Hotel guests can also enjoy satellite TV, complimentary toiletries, hair dryer and usual hotel amenities. The Dinn Rí Hotel, Carlow is central to the town's best restaurants, pubs and shops, all literally located on your doorstep.
Tower Live, Carlow
Tower Live is a multi-purpose venue specialising in live entertainment with popular live bands taking to the stage every Saturday night. The Tower Live is also suitable for large functions, parties, events, fashion shows, broadcasts and alternative style weddings.
The Foundry Nightclub, Carlow
The Foundry Nightclub Carlow is one of Ireland's premier nightlife venues delivering the ultimate clubbing experience for thousands of patrons each week. The Foundry Nightclub, Carlow really sets the pace when it comes to visual, sound and lighting displays.
---

All of the venues above are all a part of the Dinn Rí Group, an Irish privately owned group of leisure and entertainment venues and a family run business that has been passed down through the generations. Additionally the Dinn Rí Group includes, The Barracks Bar in Carlow, The Foundry Nightclub, Sinnotts Bar and The Woodman Bar in Waterford.