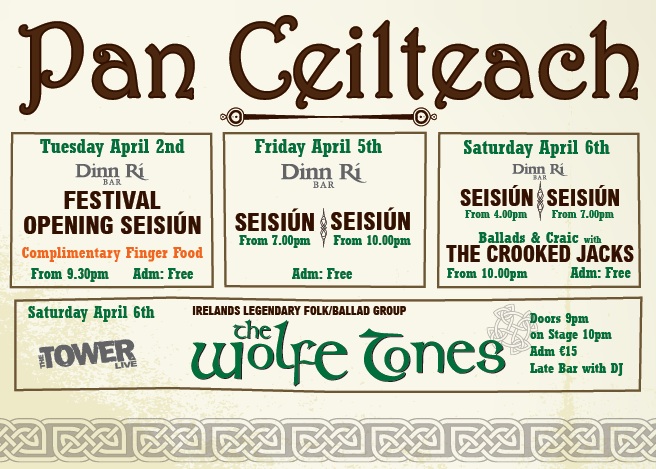 The 2013 International Pan Ceilteach Festival kicks off on Tuesday April 2nd with an Opening Seisiún at Dinn Rí Bar, Carlow at 9.30pm. Be sure to drop by – there's no admission charge and do get there early as we are putting on
some complimentary finger food!
With a significant number of visitors expected to come celebrate our Celtic Culture in Carlow that weekend, here at Dinn Rí we have announced an action packed weekend of entertainment for all.
On Friday April 5th there will be two free seisiúns in the bar, one at 7pm and one at 10pm
On Saturday April 6th the ballads and craic will continue at Dinn Rí Bar with a free seisiún at 4pm and again at 7pm
Later on Saturday night (April 6th) The Crooked Jacks, an acclaimed new ballad and folk group from the Midlands will put their own unique twist to trad!
Also on Saturday night (April 6th) upstairs at The Tower Live, Ireland's legendary Wolfe Tones will take to the stage at 10pm. Admission to the Wolfe Tones gig is €15. Doors are open at 9pm and there is a late bar and DJ afterwards